Katharine Pinney and Bryan Parra's journey toward their perfect home lasted for two years. Particularly focused on homes they could renovate, Bryan and Katharine roamed three cities and viewed countless homes in deplorable condition situated in neighborhoods that frightened their relatives. But Bryan and Katharine were determined to own a home. So they just kept looking.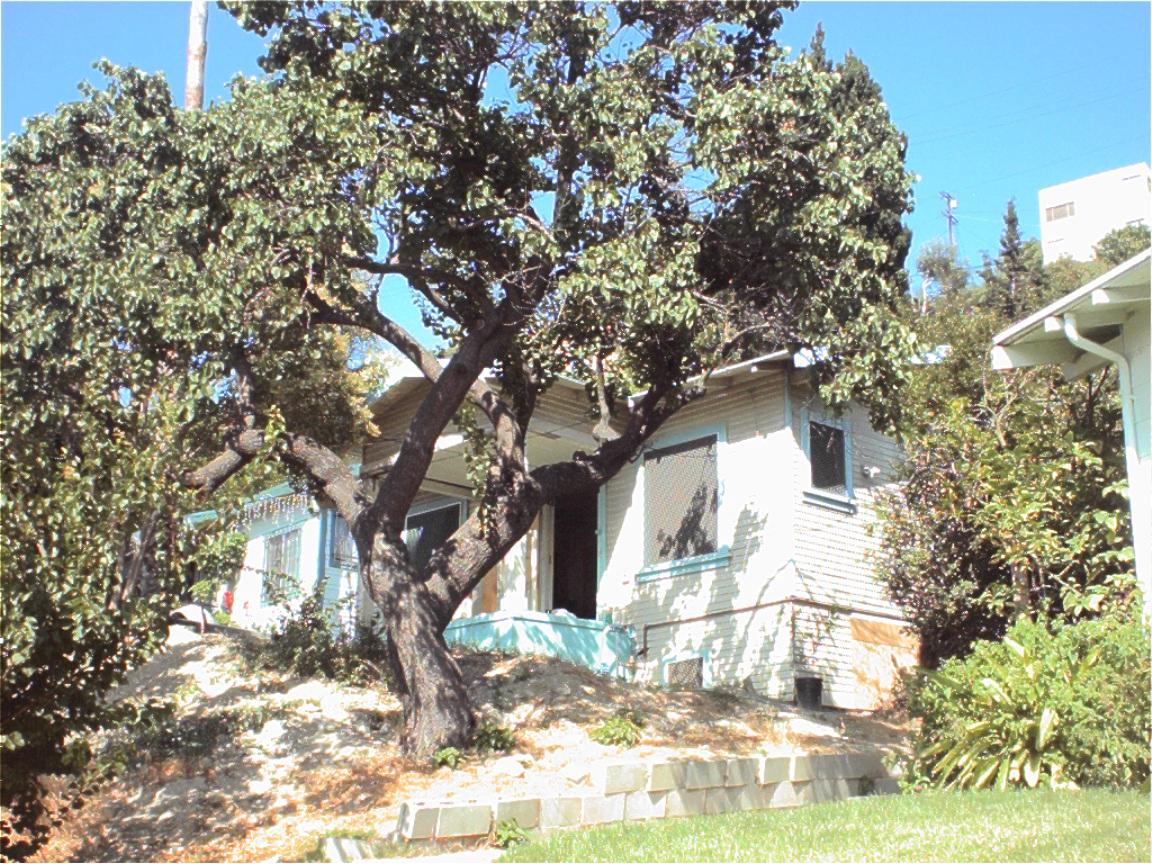 After a year of searching, Katharine and Bryan found a little residence featuring two houses on one lot. It satisfied many of their criteria, including the fact that both houses were well-built, vintage homes; the lot included enough land to allow Katharine to capitalize on her enormous gardening skills; one house was habitable with largely cosmetic rehabilitation; and the property fit their tight budget. The property had some surprisingly generous assets as well; with two homes on one lot, money from the rental unit would eventually pay the bulk of their mortgage. The front home, though it had been depleted by overuse (having housed three families for many years) presented some charming details that a home-buyer can't add later. Situated at the top of the residential area of a short hill locally known as Flat-Top, the front home boasted a commanding view of Mt. Washington and the Arroyo Seco River corridor. The Pinney-Parra home is one lot away from over 40 acres of virgin arroyo wilderness land where coyotes silently roam and red-tailed hawks grace the afternoon sky. Bryan (a classical guitarist and educator) and Katharine (an actress) assiduously researched the community and found it not merely acceptable, but a lively and cohesive society with the kind of indefinable artistic life force that they had only dreamed they might find. Finally, it was the charismatic twenties details of the front house captured Katharine's heart. The front home featured built-in Arts & Crafts style cabinetry in the dining area and living room area, along with geometric detailed window treatments still retaining much of the old-style handmade pane glass. The floors had been lovingly crafted with the most delicately boarded hardwood floors, and these had been covered with carpet for many years, and had been thus protected. "It was those Craftsman built-ins that did me in." Katharine said later. And they did exactly what all the books on how to buy a house tell you not to do: They became emotionally attached to this particular home.
Not For Sale
Good price, great house. And so you would think that at this point they simply bought the house and moved in. Ah, not quite. The house had been foreclosed and had fallen into the hands of HUD. Though Bryan and Katharine had quickly placed a bid on the homes, HUD determined that there had been "evidence of squatters" and summarily removed the property from the market. Poof! The home that Katharine and Bryan had spent a year searching for, the home for which they held a forbidden love, was for no real reason at all, suddenly no longer available.
Bryan and Katharine reluctantly continued their search for homes. They found a few acceptable homes, and even put in some offers, but none of these purchases were meant to be. Katharine would occasionally come over and check on the houses that didn't happen, accompanied by her loving dog Alex. There, Katharine would sit on the porch and gaze out at North East Los Angeles, wondering what would become of these poor sad lonely houses. And to my watching eyes, it seemed that the hopeful little houses smiled at her, and, holding her, feeling her warmth, begged her to wait.
Eventually, just as inexplicably as the property left the HUD lists, it reappeared available for purchase. Bryan and Katharine engaged an excellent real estate agent friend of theirs who guided them along the torturous path and slowly macheted away the bureaucratic red tape involved in buying a home from HUD. After several months of troublesome financial and legal dealings, Bryan and Katharine finally closed on the home they had wanted for so long.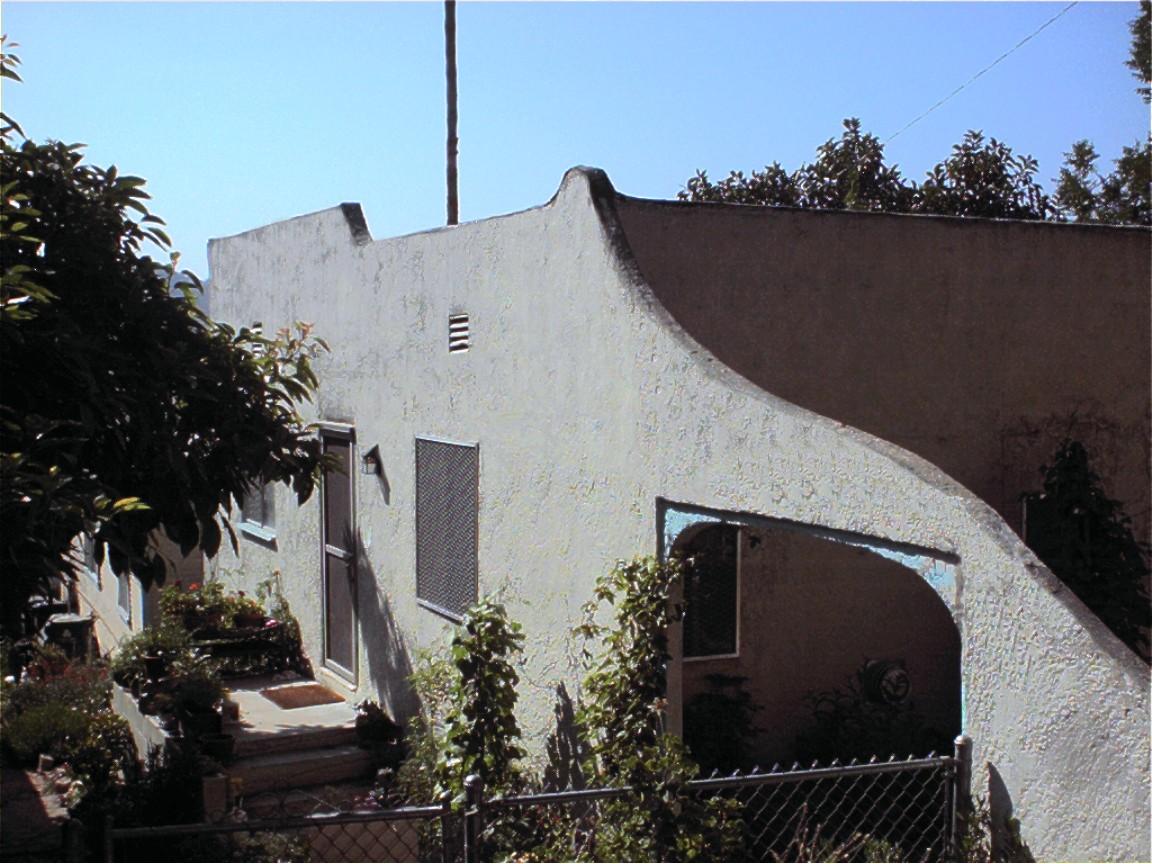 Moving Mountains
Within a month, Bryan and Katharine had shaped up the back house enough to move in. The first thing they did (after performing the massive cleaning that the house required) was to remove the mountain of fill dirt that had fallen and begun to encroach on the house. From this, they literally unearthed an elegant built-in outdoor bench, and created a lovely and soothing courtyard framed by a graceful archway attached to the home. Their kitchen renovations include a new water heater, a vintage Wedgewood stove, and a new refrigerator. But Bryan and Katharine most revealed their impeccable taste when they retiled the kitchen cabinet and floors with substantial and authentic kiln-fired Mexican tile. And not Home Depot Mexican tile, but imported directly by Katharine and Bryan from a tile artist in Rosarito, Mexico. This tile also embellishes the hearth, and will be used around the tub. They painted the living room with a lovely textured treatment, giving it a glowing richness that always seems like a surprise in a house so outwardly unassuming. Around the doors and in lieu of crown molding, Katharine stenciled pretty Deco-style adornments. With the help of Bryan's dad, Manuel Parra, Katharine and Bryan sanded and sealed the hardwood floors throughout the home, fixed the broken doors and cabinets, repaired the rather frightening electrical system, replaced a rotten bedroom floor, wall and window. Throughout it all, Katharine continued to enlarge the graceful, relaxing garden areas surrounding the home. "It's just relaxation to me." Katharine declares to a ceaselessly amazed neighbor. "I get lost out here for hours."
To Be Continued
For most people, this would be the happy ending. But not for Bryan and Katharine. For them, the hard work has just begun. In a way, Katharine and Bryan are lucky because the finished back house affords them a comfortable place to live while they renovate their real home. And this home will be a challenge. Indeed, Bryan wondered at first if their emotional attachment had blinded them to some of the serious flaws in the house – particularly the foundation. He learned that the foundation needs a great deal of repair, and some contractors have even suggested replacing it entirely. This will be a major expense, even if Bryan and Manuel do much of the work themselves. Possibly because of the failing foundation, the ceilings may have cracked, and received the slumlord repair of being sprayed with "cottage cheese". Katharine and Bryan will only know the true condition of the ceilings after they have begun the grueling task of removing this horrible stuff. The house's bathroom, located in the center of the house, had no ventilation and had become completely enveloped by mold. The kitchen had such an odd arrangement that it couldn't comfortably contain both a stove and a refrigerator. The house clearly required extensive demolition.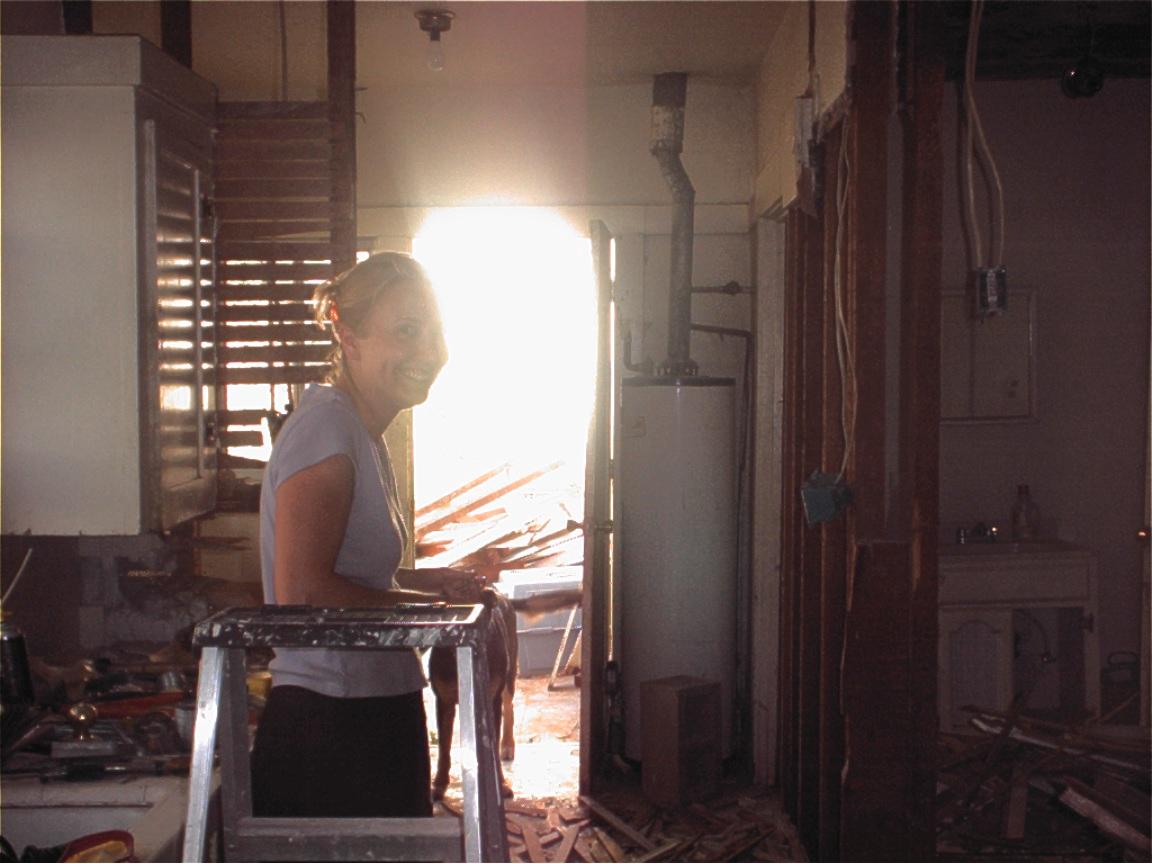 Breathe
For a woman capable of nurturing tiny pale green shoots into extravagantly lush mature plants, and a man who plays Mozart to the coyotes and the moonlight, Katharine and Bryan make a surprisingly competent demolition team! Katharine researched the structure and identified the load-bearing walls. She marked off her demolition areas with a felt-tip pen, and then, in one afternoon, they opened up the house. Even through the rubble, the house seemed to breathe better. Early on, Bryan removed from the front porch an ugly aluminum awning that bizarrely obscured the flawless view. With each step, the house moves forward toward achieving the discreet brilliance of a good, solid 1920's California Bungalow.
It was a good thing that Katharine adored the built-in cabinetry. Because renovating these poor cabinets took a monumental labor of love. It took Katharine seven months of continuous labor (even the contractors comment on her diligence) to sand these cabinets. But you can see for yourself that her hard work has paid off. These cabinets define and illuminate the house as a classic Bungalow, and that's something you just can't fake.
Along the way, the couple has found themselves deeply interested in the future of their adopted neighborhood. "I'm amazed at how strong and cohesive a neighborhood this is," declares Bryan. "When we bought in, we knew little more about the greater Montecito Heights community than a positive gut feeling, and what I had read on the website. Now, both Katharine and I have come to really care about the future of our community. Good things are happening here. Being part of a thriving, motivated society turns out to be much more fulfilling than we ever expected. We want to be part of the enlightened group that helps this area become the robust community we envision. We're in it for the long haul."
Katharine, Bryan and Manuel still sit on their front porch and gaze out at the community they have grown to love. Their clothes may be dusty and their necks may be adorned with face-masks. But they are smiling, bathed in the fragrance of a thousand happy flowers. And the houses? I still swear that they're smiling. And so am I.