Montecito Heights Wildlife and Flora
Spend a night in Montecito Heights, and you will awaken in the morning to a lavish chorus of bird songs. An amazing profusion of birds make their homes in the hillside grasslands and native trees of our little nature sanctuary. Even more birds stop by during their yearly migrations. Ruby and green throated hummingbirds (very abundant), house finches, towhee, red-tailed hawk all thrive here and, of course, so do mockingbirds that do every one's material just a little bit better than the originals. In the spring and fall, red-breasted robins appear, along with many others.
In the summer, when you rise and go outside to enjoy the sunshine, you might glimpse some shy native California Alligator lizards, beneficial creatures found all over Montecito Heights. The "gentle lizard" referred to in the Wizard of Oz song must have been a California Alligator lizard; these guys not only have easy-going temperaments, they are practically defenseless. They work hard keeping the insect population down, and make beautiful living garden ornaments.
Many Montecito Heights residents have the rare luxury of being able to pretend that they live in the secluded countryside. Due to the hills on which our community is built, quite a few houses, modest in every other respect, possess splendid vistas where nothing is visible except bare nature. A new home owner can feel enormous joy in watching the moon rise over her broad lands, with nothing beyond her boundaries but prairie hills and quiet.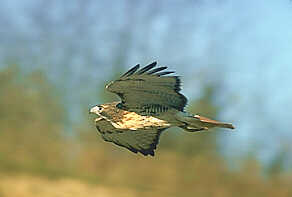 But we have had to be vigilant. Huge parcels of urban wilderness this near downtown with spectacular, sometimes 360° views, often available at very reasonable prices, are exceedingly attractive to developers. A few years ago, developers planned to level one of the hills in the area in order to build a large complex of low-income housing. The community rose up, usually with little advance notice, took time off from work, and went by carpool and city bus to City Hall again and again to fight these sneaky developers. Our intimate familiarity with these hills proved remarkably valuable when the waiver for the Environmental Impact Report submitted by developers was shown to be flawed on several key issues. For example, the waiver stated that only one California Live Oak, a protected and endangered tree species, would need to be relocated. Residents disputed this, and proved that there were over six endangered trees on that hill, with abundant photographs and eloquent and impassioned speeches in English, Spanish and Chinese.
We won. Coyotes still roam that pretty hill, and hawks soar over it, and we're glad they do.
With the numerous parks and wildlife areas in our community, we have been in the process of developing an park umbrella system generally referred to as the Big Park system. By sharing designations under a single parks system classification, we would unite our many parks and provide access to funds and services that would not normally be available to them all.
The Montecito Heights Improvement Association annually plants wildflowers and screen plants, and our chief function is to protect and enhance the extraordinary natural beauty that surrounds us.