There's a group of people called Urban Explorers who explore the shadowy hidden places in large cities. They might go into an abandoned train station, an auditorium-like underground flood channel, and an abandoned train tunnel. Though she would never consider herself an Urban Explorer, Gabriella certainly shares their spirit of adventure. Though in a way, Gabriella is much more courageous. Her trip to secret parts of the city didn't just involve sneaking up and snapping some pictures – she moved in!
And she brought her family and friends with her. In all, because of Gabriella's penchant to roam, Gabriella and her family have placed a total of five Montecito Heights residences in renovation. Gabriella's brother Jerome and his fiancée Shannon (a co-worker of Gabriella's) have almost completed renovations on the Blue House (soon they will begin work on their guest home). Gabriella's work is finished on the street side of her duplex, and after an interior coat of paint on the other side, her work will be complete. Brother Jerome has bought the bungalow next door to Gabriella's duplex, and he will begin renovations on it soon.
Gabriella in her sunny, cheerful home.
Gabriella, who works at Mission Dolores as a teacher, loves to range through this beautiful – and sometimes not so beautiful city. She particularly enjoyed her expeditions through Montecito Heights.
"I just loved this neighborhood!" Gabriella recalls. "I waited for years to find a house for sale here, but it doesn't happen all that often." (She's right. Many Montecito Heights families have lived in their homes for four or more generations.) "Montecito Heights is the only community I have found where I can dramatically reduce my commute time without compromising my quality of life. With the hill in back and all that wonderful wildlife, you really get a sense of openness here; you don't feel the city crowding in on you. The acres of plants around here help keep our air fresh, at least for Los Angeles. We have panoramic views AND wide streets (you usually don't get both!). The neighbors are excellent! We have easy access to freeways and shopping – we're ten minutes from Downtown (Los Angeles) and ten minutes from Old Town (Pasadena). It's simply one of the better neighborhoods around!"
Note the heavy wood trim, glossy now with fresh paint.
Gabriella's bungalow duplex has quite a few luxurious appointments. It boasts extravagantly thick wood trim all around, and lovely concave crown molding in the public rooms. It feels like the stateroom of an opulent cruise ship. Oddly, a stained glass window survives in what is now a utility room (Gabriella believes that stained glass once adorned many more windows than just this one).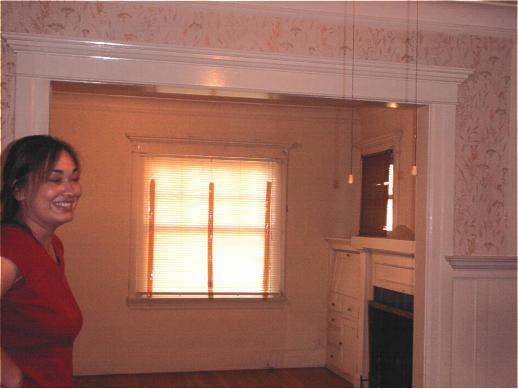 Gabriella shows off her "before" – but it was better preserved than the other half of the duplex.
"But it was mostly cosmetic work," Gabriella offers on behalf of her beloved duplex. "Really, the most demanding renovation will be refurbishing the electrical system." "A hillside home with no foundation problems at all?" I ask, incredulously. "Yes. No problems at all!" This duplex really was built with the care and stoutness of a great ship.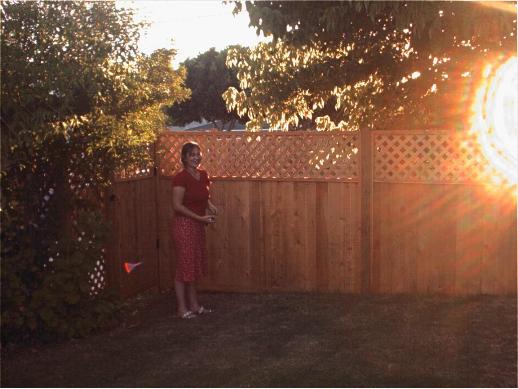 Gabriella and her pretty fences.
Of course, when Gabriella first looked at the duplex, other, more problematic issues took prominence. Like so many renovators, Gabriella had to cope with the "cottage cheese" marring the otherwise lovely ceilings. Many other bad decorating choices had been implemented in the quick-fix seventies and eighties. And like any older home, the plaster walls had slightly cracked over time. All over the house, little repairs had waited for years to receive the tender ministrations of Gabriella's new broom (the new broom that sweeps clean).
The first thing that Gabriella did was to build a lovely redwood privacy fence and plant a hedge of ficus. The plants screen the home from Griffin's street noise, and provide some additional privacy. Gabriella's privacy fence surrounds the entire back garden area, thus effectively doubling the living space of each residence. She fenced each twin's garden separately, creating two lovely, private garden sanctuaries out of one extremely public, and altogether useless single yard.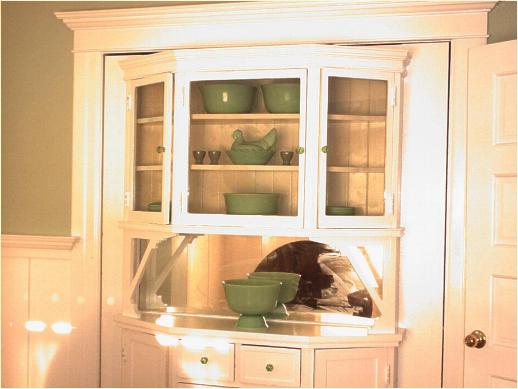 Gabriella's color scheme echoes the rich greens of her Jadeite collection.
Gabriella's cheerful, vibrant nature reveals itself in the color scheme she has selected to decorate her new home. It is at once brilliant and understated, vivacious and sumptuous. Very California, Gabriella's colors would find approval among the bungalow set that started the Arts & Crafts movement in motion.
"I always lived in Spanish-style houses, and the character of those homes really limits your choice of appropriate colors. It was so stimulating to have the freedom of color choice that this home can accept." Clearly, she built her color scheme around the fabulous collection of Jadeite glassware that she displays so elegantly on a built-in china cabinet that turns around to reveal – you'll never believe this! An intact Murphy bed! Both of Gabriella's Murphy beds are still functional. Other interesting characteristics about the home include transom windows, and a full basement with a classic cellar door that makes me want to slide down the rain barrel as I clap and sing with my playmate and our dollies three.
On the day I visited Gabriella, she had finished the tough duplex, and had just begun work on the more preserved side. Today, work on the second duplex is nearing completion. Gabriella had undoubtedly chosen to take on the tough case first, sanding built-in drawers and scraping cottage cheese to beat the band; though you would never have known this by her pleasant smile and delicate manners. Her hands gave her away. I had a charming afternoon admiring Gabriella's lovely glassware collection, her choice of chandeliers, and her substantial antique furniture collection. Seeing the quiet beauty of the haven she had created, I completely forgot about the hard work that had brought her this far. Then I shook her hand. This was the roughened hand of a woman who knew how to dig in and work hard. Gabriella was no lilting flower indeed, but a woman who buckled down and got the job done.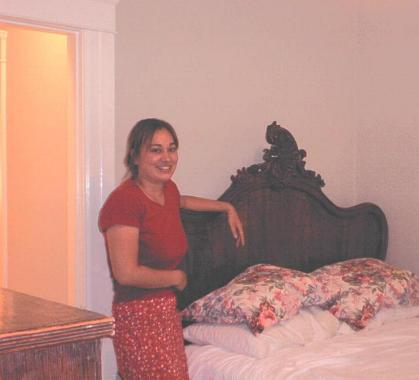 Through hard work, Gabriella has created a charming and graceful haven.
I was impressed. And the builder who created the home that has weathered the California earthquake waves for decades would have heartily approved of the new occupant of his "ship". Sail on, Gabriella, urban adventuress extraordinaire!